Welcome To VivaRoxyMusic.com
A Virtual Museum Dedicated To The Work Of Roxy Music Including the Solo Work And Sessions Of:
Bryan Ferry, Phil Manzanera, Andy Mackay & Paul Thompson

NEW BRYAN FERRY ALBUM - - ROYAL ALBERT HALL 2020 OUT NOW
OUT NOW BRYAN FERRY ALBUM - - ROYAL ALBERT HALL 1974
NEW PHIL MANZANERA ALBUM OUT NOW - - LIVE IN JAPAN 2017
ROXYMPHONY DVD - - ANDY MACKAY with PHIL MANZANERA Live DVD
Latest News
02 April 2021
Bryan Ferry Live Album Out Now
Bryan Ferry's new live album is out now
Pre-Order Here
All proceeds from this release will be shared between Bryan Ferry's band and crew members in an effort to support them until they can perform live again.
The album is available on CD, double vinyl and digitally from bryanferry.com
20 March 2021
Bryan Ferry 2021 Tour Dates Cancelled
From bryanferry.com
We are sorry to announce the cancellation of the Bryan Ferry Tour 2021.
Due to difficulties with logistics, widely varied travel, safety and other regulatory Covid restrictions in each country as well as our concern for the safety of Bryan's fans and team, we have had to make the difficult decision to cancel these shows.
We will announce new dates as soon as possible, when we are confident they can take place safely and without the risk of further postponement.
We would like to thank you for your support and patience during this difficult and uncertain time.
Please contact your ticket vendor for a refund on your ticket.
07 December 2020
New Bryan Ferry Live Album
Pre-Order Here
Bryan Ferry's concerts at the Royal Albert Hall, London in March 2020 were the triumphant culmination of the UK leg of a scheduled world tour that would be suddenly curtailed by the Covid-19 pandemic.
Preceded by concerts in Glasgow, Newcastle, Manchester and Leicester, Ferry and his band showcased a new set of songs drawn from his solo career and the iconic Roxy Music catalogue, some recorded live for the first time.
Earlier in the year Ferry had released 'Live at the Royal Albert Hall 1974', an historic album capturing the intense energy of his debut solo tour. Thirty six years later, 'Live at the Royal Albert Hall 2020' celebrates Ferry's twin careers as a classic songwriter and unique musical stylist.
All proceeds from this release will be shared between Bryan Ferry's band and crew members in an effort to support them until they can perform live again.
The album will be available on CD, double vinyl and digitally from bryanferry.com from 2nd April 2021. Pre-order now and receive a free bonus track – Sign of the Times, recorded in Glasgow earlier in the tour.
29 November 2020
R.I.P. PETER LEAY - 28th November 2020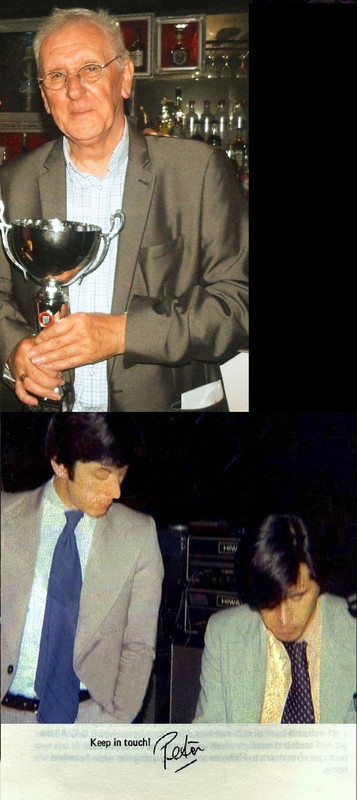 It is very sad news to hear that Peter Leay who managed the Roxy Music Fan Club for many years passed away yesterday.
Many thanks to Jocelyn Fiske for sharing her memories in tribute to Peter and his contribution to the Roxy Music story.
Pete Leay first met Roxy on June 14th, 1972 at the Liverpool Stadium when they were supporting Nazareth. I know this because he good-humoredly used to love rubbing my nose in the fact he'd seen Roxy before me.
Band, management and Pete must have instantly hit it off, because by the time of Virginia Plain and the Peel session, he was working with them, setting up and tirelessly running the Roxy Music Fan Club.
Back then, no one could put a face to the name, but we all knew Peter Leay lived at, 9, Sunbury Road, Wallasey.
We'd wait with bated breath for the latest Roxy Fan Club missive to drop through our letter boxes, sometimes weighted with a free Roxy badge. We'd pore over every sentence, every bit of inside info, every item on the shop list, mentally counting up our pennies to see if we could afford a Roxy T -shirt AND an Eddie Riff sweatshirt in one splurge.
We'd enter competitions translating the Latin in A Song for Europe to win an oversized For Your Pleasure badge – as modelled by Bryan Ferry on the lapel of his white suit/ black shirt combo.
And later, we'd be forever thankful that Pete persuaded the management to agree to the 'first two rows at gigs offered to fan club members only' policy. Now just a distant dream.
When I moved to Manchester in 1974, I used to regularly make the short pilgrimage by train and ferry across the Mersey to see Pete at what I imagined to be, a very glamorous Roxy Mansions. It turned out to be a tiny room no bigger than a cupboard, crammed with boxes of beautifully produced Roxy memorabilia. We'd sit and drink endless cups of tea, Roxy-babbling for hours and laughing like drains. We found we had a mutual love of not suffering fools gladly.
When Roxy finally fizzled out and Pete suggested maybe there was no point in running the Roxy Club any more, he moved into the Indie world, running a couple of small record labels – Voodoo Ray by A Man Called Gerald was one of his big successes, even though it ended up as a legal nightmare.
Then Pete kind of fell off my radar. I found him again about 10 years ago on Facebook. He'd been working for years in the health service and was heavily involved in grass roots football. All his co-workers loved him for his kindness and his willingness to always "go the extra mile". His young footballers said he didn't just make their football better; he really changed their lives. He loved to immerse himself in classical music at The Liverpool Philharmonic, showcase young up and coming talented artists like Callum Parry, post filthy jokes from Popbitch and he was absolutely devoted to his lovely staffy Meg.
You could never say Pete stood on ceremony; he was always involved in something.
I will be eternally grateful that he made such a fun and unique bridge between fans and Roxy Music.
He once told me he thought he had been airbrushed out of Roxy history and I assured him nothing was further from the truth. He just replied sardonically, "Those who know, know."
We all know Pete. Rest easy mate.
Jocelyn Fiske
14 October 2020
Flesh + Blood Red Vinyl
The seventh Roxy Music album, Flesh + Blood, was originally released in May 1980. Containing much-loved Roxy standards Over You, Oh Yeah and Same Old Scene, the album shot to No.1 on the UK (where it was on the charts for over a year) and was a Top 40 hit in the US.
Hear it again pressed in blood-red 180gm vinyl for a strictly limited time, released on Friday 16 October:
24 August 2020
Roxy Music - Record Store Day 2020
The date for Record Store Day in UK is now confirmed as 29th August 2020.
Steven Wilson's stereo mix of Roxy Music's eponymous debut album will now , with the full blessing of the band, be released in strictly limited clear vinyl for RSD 2020, mastered for vinyl by Frank Arkwright at Abbey Road
09 April 2020
Phil Manzanera - Splt Enz - Forenzics
Phil Manzanera has formed the band Forenzics with former members of Split Enz for a new album.
Split Enz where the support for Roxy Music's first tour of Australia & New Zealand in April 1975. It was during this tour that Phil Manzanera was so impressed by them that he produced their second album 'Second Thoughts'
Phil's relationship with some of the members continued over the years with guest appearances on his solo albums.

Tim Finn can be found on Phil's 'Listen Now', 'K-Scope & Southern Cross

Eddie Rayner played keyboards on 'K-Scope'
A release date has not yet been announced....... watch this space.

09 March 2020
Roxy Music - Record Store Day 2020
Record Store Day on 18th April 2020 sees the final piece of the Roxy Music revolutionary debut album celebration and with the full blessing of the band, Steven Wilson's stereo mix of the epochal work will see the light of day for the first time, available as a Record Store Day exclusive. Limited edition of 1250 LPs pressed on 180g, clear vinyl. Mastered by Frank Arkwright at Abbey Road.
07 February 2020
Bryan Ferry - New Album - Royal Albert Hall 1974
Bryan Ferry's legendary performance at Royal Albert Hall in 1974 is out on CD, LP & Deluxe Edition Box set.
The show's set was drawn mainly from his first two solo albums and many of the songs on this recording have never been performed live since
You can order this at the Bryan Ferry Store