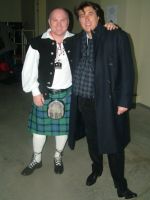 This site and its Author
AUTHOR:
My name is John O'Brien and I have lived in the Scottish Highlands since 1989. I was brought up in the village of Croy near Glasgow where I first got into Roxy Music in 1979. I have since then admired the work of Bryan Ferry, Phil Manzanera, Andy Mackay & Roxy Music and over the years I have seen them perform over 100 times in numerous cities and various countries around the world.
Since buying my first record in 1979 I have, for what appeared to be for no sensible reason, gathered together one of the largest collections of Roxy Music & solo records, CDs, cuttings & memorabilia I know of which inadvertently gave me an in depth knowledge and passion for one of the most influential bands of their time. In the age of the World Wide Web I found that reason. This website has given me the opportunity to share what I have amassed and I hope that you find some parts of this site useful and interesting, and that you enjoy looking through it as much as I did putting it together.
The site was brought to the attention of Bryan Ferry + Roxy Music in 2004 and since then I have been involved as an archive consultant/historian and have assisted the band with various things regarding the history of the band including being involved with the inner booklet of
the 3CD set 'The Platinum Collection'
where I received a credit on the sleeve, the 2007 tour book and on the 'Dylanesque DVD, More Than This The Roxy Music Story DVD, The Best Of Bryan Ferry CD the Roxy Music 2011 'For Your Pleasure' tour book, the 2011 Bryan Ferry 'Olympia' tour book and the 2013 Bryan Ferry tour book.
***Please note*** The information and pictures on this site are intended for the use of fans for their own personal use. Could anyone wishing to use anything from this site for their own commercial gain please contact me first.
The Site
This site is designed to give an in depth look at the music of the band Roxy Music and the solo work and primary collaborations of its 3 main members Bryan Ferry, Phil Manzanera & Andy Mackay who were on all 8 Roxy Music studio albums. Close attention is also given to Paul Thompson, Brian Eno and Eddie Jobson who's input as members of Roxy Music had a great impact in forming the sound of the band.
The site is archived from my personal collection of records, memorabilia, newspaper & magazine interviews and a lifelong following of the work of one of the most influential and innovative bands in modern music. It is designed in the hope that any information regarding record releases and the musicians who have worked with Roxy, Bryan, Phil & Andy can be found easily.
The song pages contain information on the various versions of the track,live performances, chart positions, musicians used, where the songs appear on albums/a-sides/b-sides etc, original artists of the songs covered by Bryan & Roxy, artists who have covered Bryan & Roxy's songs and a link to its lyrics. The albums, songs & musicians pages are crossed linked so that any information on a song or musician can be found easily. This comprehensive link can be found with each musician to where he/she appears on all the Roxy & solo albums and similarly for where each song appears.
I have included many photographs, which are taken from newspaper & magazine articles that I have gathered together over the years. There are a large number of images custom made for the site that show the various variations to the record releases and the different formats from around the world. These images were created by digitally photographing the contents on a self-coloured background and editing the backgrounds to make the images as original and interesting as possible. These images are the copyright of vivaroxymusic.com and should not be used in any shape or form without the permission of vivaroxymusic.com
This site will eternally be a work in progress and will constantly be updated with any news on new releases, tours, TV appearances, magazine interviews etc. It is not exhaustive and I would invite anyone who has any information that I could add, and any suggestions to improve it would be welcome.
Permission has been sought, where possible, for the use of material obtained from public domain sources and for any article or photograph used in this site. If you see your material here is used without permission please take it as a compliment and if you would like your credit added then let me know. If anyone has any reason to request the removal of anything on the site then please contact me.
Contact:-
john@vivaroxymusic.com