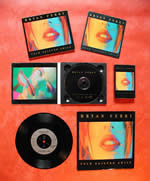 Lyrics to Your Painted Smile
Lyrics to the song Your Painted Smile as recorded by Bryan Ferry.
Words & Music By Bryan Ferry
Too fast to live
Too young to die
One stolen kiss babe
A certain smile
We never close babe
We dance all night
I'm lost inside babe
Your painted smile
The name of the place
The name of the place
You'll never know babe
The state I'm in
It's a plastic world babe
No tiger skin
Don't talk to me (don't talk to me)
Your perfume sighs
I'm lost inside babe
Your painted smile
Your Painted Smile
Single
Released on 24th September 1994, this was the first single released from Bryan Ferry's Mamouna album. It spent one week at number 52 in the UK charts on 23rd October 1994. The song was performed live during his world tour in 1994-1995. It was released with a live version of Don't Stop The Dance as the b-side to the single and cassette single with In Every Dreamhome A Heartache & Bete Noire recorded at the same Glasgow show on 10th December 1988 added to the CD single.

Song Musicians
Your Painted Smile is on the following Roxy Music and Solo Albums
Chart Info
CHART HISTORY
23 Oct 1994 52
(Chart run of one week)
Thanks to Johnny Reece for the research.
Discography:
| Format | Country | A-Side | B-Side | Details | Label | Cat. No |
| --- | --- | --- | --- | --- | --- | --- |
| | | | | | | |
| 7" | UK | Your Painted Smile | Don't Stop The Dance (Live) | Picture Sleeve | Virgin | VS 1508 |
| Cass. | UK | Your Painted Smile | Don't Stop The Dance (Live) | Picture Sleeve | Virgin | VSC 1508 |
| 5" CDs | UK | Your Painted Smile | In Every Dreamhome A heartache (Live) | Picture Sleeve | Virgin | VSCDG 1508 |
| | | Don't Stop The Dance (Live) | Bete Noire (Live) | | | |
| 5" CDs | UK | Your Painted Smile | In Every Dreamhome A heartache (Live) | Picture Sleeve Promo | Virgin | VSCDG 1508 |
| | | Don't Stop The Dance (Live) | Bete Noire (Live) | | | |
| 5" CDs | Holland | Your Painted Smile | Don't Stop The Dance (Live) | Picture Sleeve | Virgin | VSCDE 1508 |