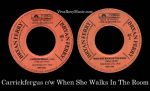 Lyrics to Carrickfergus
Lyrics to the song Carrickfergus as recorded by Bryan Ferry.
Traditional Arranged by Bryan Ferry

I wish I was in Carrickfergus
Only for nights in Ballygrand
I would swim over the deepest ocean
Just to see my love before I die
But the sea is wide and I cannot swim over
Nor have I wings so I could fly
I wish I could meet a handsome boatman
To carry me over my love and I
In Kilkenny it is reported
On marble stones as black as ink
With gold and silver I did support her
But I'll sing no more till I've had a drink
Well I'm drunk today and I'm seldom sober
A handsome rover from town to town
But I am sick now my days are numbered
Come all you young men and lay me down
Come all you young men and lay me down
Carrickfergus
Single
Carrickfergus is a traditional Irish Ballad which has been sung by many artists including Van Morrison and The Chieftans. The song was first performed live by Bryan Ferry as a 'one off' after the Royal Dublin Showground show 13th December 1988 accompanied by The Edge from U2.
The song was released as a single in 1978 but didn't enter the top 100.

It was performed as a duet with Audrey Wheeler during the Bryan's 1994/5 tour and was also part of the 1999 As time Goes By tour & Frantic Tour 2002-03.

Song Musicians
Carrickfergus is on the following Roxy Music and Solo Albums