Manchester Manifesto - 23rd May 2011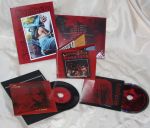 Manchester Manifesto DVD is of the previously released footage recorded by Granada Television at Manchester Apollo 1979 during the Manifesto Tour.
This new release includes deluxe packaging. Within the slip case are 2 discs within cardboard sleeves. One disc is the DVD footage and the other is the soundtrack re-mastered for the CD.
The booklet is an 8 page CD size booklet with sleeve notes, photographs and memorabilia.
Track listing for both discs:
Manifesto
Song For Europe
Still Falls The Rain
Mother Of Pearl
In Every Dreamhome A Heartache
Ain't That So
Love Is The Drug
Editions Of You
Re-make/Re-model
Virginia Plain

Musicians:
Bryan Ferry, Phil Manzanera, Andy Mackay, Paul Thompson, Gary Tibbs and David Skinner
Running Time: 60 Minutes
Roxy Music have no input to this DVD as it is not an official Roxy Music release but released under license.