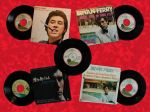 Lyrics to Smoke Gets In Your Eyes
Lyrics to the song Smoke Gets In Your Eyes as recorded by Bryan Ferry. 
(Kern/Harbach)
They ask me how I knew
My true love was true
I of course replied
Something here inside
Cannot be denied
They said someday you'll find
All who love are blind
When your heart's on fire
You must realize
Smoke gets in your eyes
So I chaffed them and I gaily laughed
To think they could doubt my love
Yet today my love has flown away
I am without my love
Now laughing friends deride
Tears I cannot hide
So I smile and say
When a lovely flame dies
Smoke gets in your eyes
Smoke Gets In Your Eyes
Single
This 30's standard was a huge hit by the Platters and was originally recorded by Phyllis Robins.
Bryan Ferry released this track as a single which peaked at number 17 in the UK charts in September 1974.
Bryan played this song throughout his As Time Goes By tour in 1999/2000 and also during the Frantic & Dylanesque tours.

Song Musicians
Smoke Gets In Your Eyes is on the following Roxy Music and Solo Albums
Chart Info
CHART HISTORY
27 Aug 1974 43
03 Sep 27
10 Sep 22
17 Sep 21
24 Sep 17
01 Oct 19
08 Oct 21
15 Oct 50
(Chart run of 8 weeks)

| Format | Country | A-Side | B-Side | Details | Label | Cat. No |
| --- | --- | --- | --- | --- | --- | --- |
| | | | | | | |
| 7" | UK | Smoke Gets In Your Eyes | Another Time Another Place | | Island | WIP 6205 |
| 7" | Italy | Smoke Gets In Your Eyes | Another Time Another Place | Picture Sleeve | Island | WIP 26205 |
| 7" | Germany | Smoke Gets In Your Eyes | Another Time Another Place | Picture Sleeve | Island | 13562 AT |
| 7" | Germany | Smoke Gets In Your Eyes | A Hard Rain's A Gonna Fall | Picture Sleeve | Polydor | 2002 080 |
| 7" | Portugal | Smoke Gets In Your Eyes | Another Time Another Place | Picture Sleeve | Island | WIP 6205 |
| 7" | Japan | Smoke Gets In Your Eyes | Another Time Another Place | Picture Sleeve | Island | ILR 10659 |
| 7" | Spain | Smoke Gets In Your Eyes | Another Time Another Place | Picture Sleeve | Island | 13562 |
| 7" | France | Smoke Gets In Your Eyes | Another Time Another Place | Picture Sleeve | Island | 13562 |