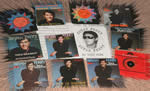 Lyrics to This Is Tomorrow
Lyrics to the song This Is Tomorrow as recorded by Bryan Ferry.
(Ferry)
Here in the hush of evenin'
On a night in June
Overhearin' conversations
Bayin' at the moon
Suddenly a voice I'm hearin's
Sweet to my ear
This is tomorrow callin'
Wishin` you were here
Layin' in my motel bedroom
Feelin' ceilin' blues
Wall to wall a TV's twitchin'
Clearly not a muse
Then flashin' through the interference
Beams a thousand tunes
This is tomorrow callin'
What have I to lose?
Truckin' by the railway station
I'm on the road again
Steerin' clear of all temptation
Unto the point of pain
When steamin' thru on cue
I hear that wailin' whistle blow
If this is tomorrow callin'
Oh what a way to go
Day to day you live old fashioned
Hi-toned, fancy free
A double take, an image-spittin'
Tailored to a T
While history is tellin' me
The same old thing
This is tomorrow callin'
Let's stick a new oar in
This is tomorrow callin'
Y'all 'n come on in
This Is Tomorrow
Single
This song was released as a single by Bryan Ferry in 1977 with a non album track As The World Turns as it's b-side. The song peaked at number 9 in the UK charts during it's 9 week run.
The title 'This Is Tomorrow' was inspired by a hugely influential exhibition of Pop Art at the Whitechapel Art Gallery in London, devised by Richard Hamilton, who had taught Ferry at Newcastle Univesity.
This Is Tomorrow was performed live during Bryan Ferry's 1977 tour but hasn't been performed since. A promotional video was shot during the 1977 tour during a sound check in Japan and is available on the DVD released with The Best Of Bryan Ferry in 2009.

Song Musicians
This Is Tomorrow is on the following Roxy Music and Solo Albums
Chart Info
CHART HISTORY
01 Feb 1977 50
08 Feb 21
15 Feb 17
22 Feb 10
01 Mar 11
08 Mar 9
15 Mar 13
22 Mar 17
29 Mar 32
(Chart run of 9 weeks)
Thanks to Johnny Reece for the research.

| Format | Country | A-Side | B-Side | Details | Label | Cat. No |
| --- | --- | --- | --- | --- | --- | --- |
| | | | | | | |
| 7" | UK | This Is Tomorrow | As The World Turns | Picture Sleeve | Polydor | 2001 704 |
| 7" | Germany | This Is Tomorrow | As The World Turns | Picture Sleeve | Polydor | 2001 704 |
| 7" | Holland | This Is Tomorrow | As The World Turns | Picture Sleeve | Polydor | 2001 704 |
| 7" | Spain | This Is Tomorrow | As The World Turns | Picture Sleeve | Polydor | 2001 704 |
| 7" | Belgium | This Is Tomorrow | As The World Turns | Picture Sleeve | Polydor | 2001 704 |
| 7" | Denmark | This Is Tomorrow | As The World Turns | Picture Sleeve | Polydor | 2001 704 |
| 7" | Italy | This Is Tomorrow | As The World Turns | Picture Sleeve | Polydor | 2001 704 |
| 7" | France | This Is Tomorrow | As The World Turns | Picture Sleeve | Polydor | 2001 704 |
| 7" | Argentina | This Is Tomorrow (Es El Manana) | One Kiss (Un Beso) | | Polydor | 2001 764 |
| 7" | Argentina | This Is Tomorrow (Es El Manana) | One Kiss (Un Beso) | Promo | Polydor | 2001 764 |
| 7" | Japan | This Is Tomorrow | As The World Turns | Picture Insert + Lyrics | Polydor | DPQ 6045 |
| 7" | Sweden | This Is Tomorrow | As The World Turns | Picture Sleeve | Polydor | 2001 704 |
| 7" | Portugal | This Is Tomorrow | As The World Turns | Picture Sleeve | Polydor | 2001 704 |
| 7" | Yugoslavia | This Is Tomorrow | As The World Turns | Picture Sleeve | Polydor | 2001 704 |