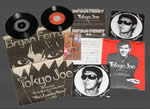 Lyrics to Tokyo Joe
Lyrics to the song Tokyo Joe as recorded by Bryan Ferry.
Words & Music By Bryan Ferry
My girl Friday she no square
She like lotus blossom in her hair
Be-bop records and something new
Sometimes borrowed but she's never blue
Oh no, not Tokyo Joe
Way past midnight, she not home
She cut the ice down the Danger Zone
Water-tight dresses, she don't care
A trifle risque, a tart, no sir
Oh no, sounds like Tokyo Joe
Geisha girl show you she adore you
Two oriental eyes implore you
Femme fatale or ingenue?
She very cunning, fiendish clever
Geisha girl suffer many times a fool
Sayonara moon
When all the world's a stage, oh where are you?
Tokyo Rose on the radio
Or Diz 'n Bird puttin' on the moan?
Tappin' out telexes to Tupelo
Dear John, doh ra me fah so
Let's go, call for Tokyo Joe
Walkin' tall down the Danger Zone
She hokey-kokey till the cows come home
Big shot - from the hip - neon cool
Say, when you've been around, what's left to do?
Don't know? Ask Tokyo Joe
So inscrutable her reply
"Ask no question and me tell no lie"
GI boys howlin' out for more
VIP'S purrin' "je t'adore"
Ah so, that's Tokyo Joe
Tokyo Joe
Single
Tokyo Jone was the second single to be released from the In Your Mind album in May 1977 peaking at number 15 on 7th June during its 7 week run in the UK charts. It featured a non album track as its b-side, She's Leaving Home, which Bryan recorded for the Beatles tribute album All This And World War 2.
Continuing Ferry's fascination with cinema, 'Tokyo Joe' celebrates 'femme-fatale', inspired by the song 'Shanghai Lil' sung by James Cagney in the Hollywood musical from the '30's
Tokyo Joe has been performed live during the In Your Mind Tour in 1977, the 2002-03 Frantic tour and the 2007 Dylanesque tour.
The song was used as the theme music for a Japanese TV show called Gift in 1997. This inspired its re release as a 3" CD single which topped the Japanese charts. The CD single included a TV edit of the song and also a Karaoke version. A compilation album was released at the same time which was a slightly different version of the 1995 European compilation More Than This. This new version featured new artwork and included Tokyo Joe which was also the title track.
Ryuichi Sakamoto recorded a version of Tokyo Joe as the title track to one of his solo albums.

Song Musicians
Tokyo Joe is on the following Roxy Music and Solo Albums
Chart Info
CHART HISTORY
10 May 1977 49
17 May 29
24 May 20
31 May 26
07 June 15
14 June 24
21 June 31
(Chart run of 7 weeks)
Thanks to Johnny Reece for the research.

| Format | Country | A-Side | B-Side | Details | Label | Cat. No |
| --- | --- | --- | --- | --- | --- | --- |
| | | | | | | |
| 7" | UK | Tokyo Joe | She's Leaving Home | | Polydor | 2001 711 |
| 7" | Japan | Tokyo Joe | She's Leaving Home | Picture Insert + Lyrics | Polydor | DPQ 6058 |
| 7" | Holland | Tokyo Joe | She's Leaving Home | Picture Sleeve | Polydor | 2001 711 |
| 7" | Spain | Tokyo Joe | She's Leaving Home | Picture Sleeve | Polydor | 2001 711 |
| 7" | Germany | Tokyo Joe | She's Leaving Home | Picture Sleeve | Polydor | 2001 711 |
| 7" | Belgium | Tokyo Joe | She's Leaving Home | Picture Sleeve | Polydor | 2001 711 |
| 7" | USA | Tokyo Joe | Tokyo Joe | Mono/Stereo Promo | Atlantic | 3399 |
| 7" | Argentina | Tokyo Joe | Rock Of Ages | | Polydor | ??? |
| 7" | UK | Tokyo Joe | She's Leaving Home | Promo | Polydor | 2001 711 |
| 7" | USA | Tokyo Joe | As The World Turns | | Atlantic | 45-3399 |