1999 Bryan Ferry Meltdown Festival
Bryan Ferry performed at the Meltdown Festival in London on July 2nd 1999. Bryan took part in Hal Wilner's Harry Smith project.

Bryan on piano, accompanied by banjo players, string bass and guitarist performed the folk songs The Butcher Boy & John Hardy.

This was Bryan's first live performance since the Heineken Night Of The Proms tour 4 years earlier and was the last live performance that his close friend & Roxy publicist Dr Simon Puxley attended before he died later that year.
Tour Book
Click to see some scanned tourbook images - these may take a while to load on slower connections.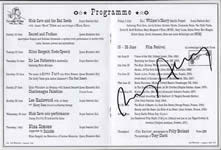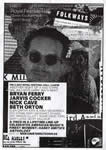 Typical Set List
For specific show setlists for this tour click here
Tour Musicians & Credits
Tour Venues and Itinerary
02 July 1999 Royal Festival Hall London