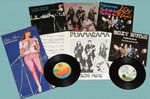 Lyrics to Pyjamarama
Couldn't sleep a wink last night
Oh how I'd love to hold you tight
They say you have a secret life
Made sacrifice your key to paradise
Never mind, take the world by storm
Just boogaloo a rhapsody divine
Take a sweet girl just like you
How nice if only we could bill and coo
I may seem a fool to you for ev'rything
I say or think or do
How could I apologise for all those lies
The world may keeps us far apart but up in heaven, angel
You can have my heart
Diamonds may be your best friend
But like laughter after tears
I'll follow you to the end
Pyjamarama
Single
Roxy Music's Pyjamarama was released February 1973 c/w The Pride And The Pain and reached number 10 in the UK singles charts. The song was released to promote the For Your Pleasure album but was not included on the album. A slightly different mix was used for the Greatest Hits compilation album and b-side version to the 1977 re-release of Virginia Plain.

Pyjamarama was played regularly during the early tours but hadn't been performed live since 1975 until it was reintroduced to the live set for Roxy Music's 2005 tour. A live version can be heard on Roxy Music's Viva! Roxy Music album.

What Bryan Says:

"Pyjamarama is the first song I wrote on guitar"

Song Musicians
Pyjamarama is on the following Roxy Music and Solo Albums
Chart Info
Pyjamarama

CHART HISTORY

06 Mar 1973            45
13 Mar                 30
Please note  -  this was deemed a 'provisional' Top 30 Chart broadcast by
BBC Radio 1 on Tuesday 13th March 1973,
due to a UK postal strike preventing all 'returns' from UK Record Shops
arriving on time.  The 'official' BBC / British Market Research Bureau
chart, with all 'returns' in, was published one day late due to this - on
Wednesday, 14th March 1973).
14 Mar                 31
20 Mar                 23
27 Mar                 17
03 Apr                 13
10 Apr                 10
17 Apr                 10
24 Apr                 10
01 May                 14
08 May                 25
15 May                 30
22 May                 39
(Chart run of 12 weeks)

Thanks to Johnny Reece for the research.


Find out more about this song.
Discography:
Format
Country
A-Side
B-Side
Details
Label
Cat. No
7"
UK
Pyjamarama
The Pride And The Pain
Island
WIP 6159
7"
France
Pyjamarama
The Pride And The Pain
Picture Sleeve
Island
6138 028
7"
Spain
Pyjamarama
The Pride And The Pain
Picture Sleeve
Island
12575
7"
Portugal
Pyjamarama
The Pride And The Pain
Picture Sleeve
Island
WIP 6159
7"
Germany
Pyjamarama
The Pride And The Pain
Picture Sleeve
Island
12575AT
7"
Italy
Pyjamarama
The Pride And The Pain
Picture Sleeve (Gatefold)
Island
WIP 26159
7"
Denmark
Pyjamarama
The Pride And The Pain
Picture Sleeve
Island
WIP 6159
7"
Holland
Pyjamarama
The Pride And The Pain
Picture Sleeve
Island
12575AT
7"
Singapore
Pyjamarama
The Pride And The Pain
Picture Sleeve
Island
WIP 6159