1979 Roxy Music Manifesto
The newly reformed Roxy Music promoted their Manifesto album with a world tour. The Tourists (fronted by Dave Stewart & Annie Lennox) were the support band in UK, Wire in Germany and Rough Diamond in USA.

An edited version of the Denver show was released as a live CD called Concert Classics (by Ranch Records) & an augmented version was later released as Concerto.
The Manchester show was recorded by Granada TV and a video was released
as 'On The Road' in 1991 and on DVD (Australia) in 2003. A new version of this footage was released with deluxe packaging in 2011 as the double disc (CD & DVD) Manchester Manifesto
Thanks to Graham Middleton for the following information:-
Roxy Music 1979
The tour started in Stockholm on 24/2/79 and was reviewed in detail by Alan
Jones (huge Roxy fan at the time) in 'Melody Maker'. 'Cry Cry Cry',
'Casanova', 'Both Ends Burning' and 'Virginia Plain' were played.
I went to 10 out of the 15 UK concerts. No 'Cry Cry Cry' and 'Both Ends
Burning' on any of those dates, but 'Virginia Plain' was played at
Manchester (for the Granada TV video) and 'Casanova' was played the last two nights at Hammersmith.
Tour Book
Click to see some scanned tourbook images - these may take a while to load on slower connections.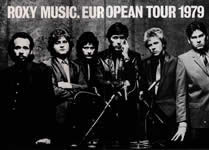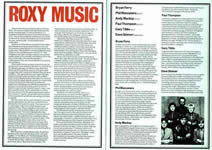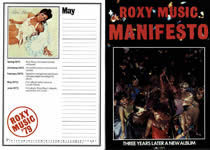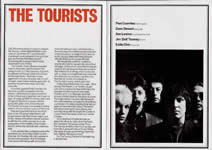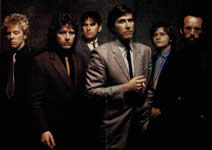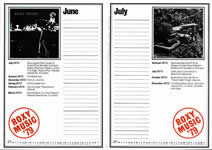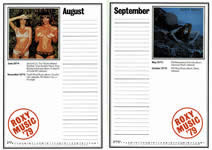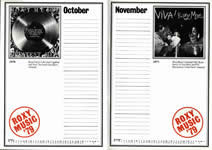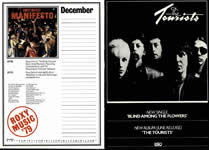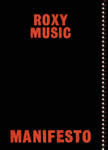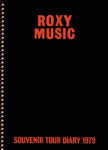 Typical Set List
We don't have specific show setlists for this tour. Please contact us if you have anything of interest.
Tour Musicians & Credits
Tour Venues and Itinerary
24 February 1979 Isstadion (Ice Stadium)Stockholm Sweden
04 March 1979 Essen Grugahalle Germany
05 March 1979 Carre Amsterdam Holland
06 March 1979 Congresgebouw The Hague Holland
09 March 1979 Montreaux Switzerland
11 March 1979 Pavillon de Paris, Porte de Pantin, France
13 March 1979 Halle Münsterland, Münster, Germany
14 March 1979 Jahrhunderthalle, Frankfurt, Germany
28 March 1979 Montgomery County Community College Philladelphia USA
29 March 1979 Palladium New York USA
30 March 1979 Tower Theatre Philladelphia USA
31 March 1979 Orpheum Theatre Boston USA
01 April 1979 Towson University Maryland USA
04 April 1979 Coliseum Cleveland USA
05 April 1979 Masonic Auditorium DetroitUSA
06 April 1979 Uptown Theatre Chicago USA
08 April 1979 Buffalo NY USA
09 April 1979 Columbus USA
11 April 1979 Oriental Theatre Milwaukee USA
12 April 1979 Kiel Opera House St Louis USA
13 April 1979 One Block West, Kansas City USA
14 April 1979 Guthrie Theater Minneapolis USA
15 April 1979 Omaha USA
17 April 1979 Denver USA
20 April 1979 Oakland Auditorium Oakland USA
21 April 1979 Pasadena Civic USA
22 April 1979 San Diego USA
26 April 1979 Nagoya City Hall Nagoya Japan
27 April 1979 Hesuteipa Hall Osaka Japan
28 April 1979 Budokan Hall Tokyo Japan
02 May 1979 De Montford Hall Leicester England
03 May 1979 Odeon Birmingham England
04 May 1979 Odeon Birmingham England
06 May 1979 Apollo Manchester England
07 May 1979 Apollo Manchester England
08 May 1979 Apollo Glasgow Scotland
09 May 1979 Apollo Glasgow Scotland
10 May 1979 City Hall Newcastle England
11 May 1979 City Hall Newcastle England
12 May 1979 Empire Liverpool England
13 May 1979 Hippodrome Bristol England
14 May 1979 Gaumont Southampton England
16 May 1979 Hammersmith Odeon London England
17 May 1979 Hammersmith Odeon London England
18 May 1979 Hammersmith Odeon London England
**(Still Searching For Other Dates)**