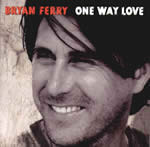 Lyrics to One Way Love
Lyrics to the song One Way Love as recorded by Bryan Ferry.

One Way Love

Written By Berns/Ragavoy 

I thought I could find 
A kind of girl 
Who'd think that I was the only 
Guy in the world 
No more half -hearted kisses 
Oh that's bad enough 
Oh no more teardrops 
No one way love 
 
Don't look for someone 
Who likes to love fast 
You know that kind of lovin' 
Will never last 
If she's fast and furious 
Oh that can be tough 
Oh no more teardrops 
No one way love 
 
Well there are girls 
Who like to cheat and flirt 
Those kind of girls 
Are the worst of all 
Oh how they lie 
And oh how they hurt 
 
Take it from me 
I know what I say 
I'll find me a girl 
Who knows how to play 
That game of heartbreak 
Oh that's mighty rough 
Oh no more teardrops 
No one way love
One way love

One way love
One way love
One way love
One way love
One way love




One Way Love
Single
Bryan Ferry has recorded a version of The Drifters song One Way Love for his 2002 album 'Frantic'

One Way Love was recorded during the unreleased 'Alphaville' sessions and this version finally made it onto 'Frantic'.

A one track 'Promo' was also released of One Way Love to promote the album in Europe. The song has been given full commercial release as a single in Germany on 8th July 2002 with the tracks Mother Of Pearl (Horoscope Sessions) & Crazy Love.

Bryan did some promotion for the single on French TV. The song was performed live at the Amsterdam show 9th September 2002 during the Frantic tour.

Thanks to Swedish Roxy fan Peter Lindquist for the following information:-

One Way Love: This one was written by Bert Berns and Jerry Ragavoy and was first recorded by The Drifters (with Johnny Moore singing lead). They recorded the song in December 1963 under the production of Bert Berns and it was released on Atlantic Records in April 1964. Cliff Bennett & The Rebel Rousers made a cover of it in 1966.
This is the second time Ferry has chosen a song from the Berns/Ragavoy songbook, he did that in 1973 we he recorded Erma Franklin's Piece Of My Heart for "These Foolish Things"
Song Musicians
One Way Love is on the following Roxy Music and Solo Albums
Chart Info
CD Single (Germany)

(1) One Way Love
(2) Mother Of Pearl (Horoscope Sessions)
(3) Crazy Love


One Track Promo;-
Virgin VGP 000426

(1) One Way Love