2002-03-04 Bryan Ferry Frantic
Bryan Ferry's 2002 tour began with a series of open air summer shows which were 'hits' orientated shows. The indoor venues starting in September had a very different set with Bryan doing the opening number The Only Face as a piano vocal with the rest of the band joining the stage song by song untill the whole band were on stage for The Thrill Of It All. The 'Frantic' album was promoted more during this part of the tour with most of the songs on the album being played somewhere along the tour.
A surprise addition was 'Just Like You' from Roxy Music's 'Stranded' album being played live for the first time. A piano/vocal version of More Than This opened the Barcelona show.
Carrickfergus was performed as a one-off in Cork in the early part of the tour but became a regular in the Autumn tour.
My Only Love was introduced in Rome and Goodnight Irene had a one off performance at the Rome show and then was introduced to the UK dates in 2003. A song called My One And Only Love was performed as a sax instrumental during the Autumn dates on the Frantic tour.
The Belfast Castle show was broadcast live on BBC Radio 2 and the
The Amsterdam show was recorded by Dutch Radio and was broadcast on 27th September, the Brussels show was recorded by Belgian TV and a broadcast was shown on Belgian & French TV.
The Sam The Sham & The Pharoes song Wooly Bully was performed at the York show and was included in the set for several of the remaining shows.
Scottish singer 'Horse' was the support for some of the summer shows with Rosie Thomas as support act for the Autumns show. Martina Sorbara was the support act for the USA dates in November and the UK dates in 2003.
20 dates in UK were added to the Frantic tour in March 2003 mainly in towns and venues not often played by Bryan. Prior commitments meant that Lucy Wilkins, Sarah Brown Katie Turner & Anna Vollands could not join the band for this additional leg of the tour. Lucy was replaced by Lousie Peacock and Sharon White & Michelle John-Douglas rplaced Sarah, Katie & Anna on backing vocals. The final 4 dates of the tour had to be cancelled as Bryan had acute laryngitus was advised by doctors not to sing. these dates were the rescheduled to November 2003.
The Australia & New Zealand leg of the tour was added for February 2004 and summer dates have also been added for UK in 2004, these dates may well be part of a 'hits' tour. Durning the Australin dates Bryan added the song Broken Wings to the set which had never been performed live before.

Tour Book
Click to see some scanned tourbook images - these may take a while to load on slower connections.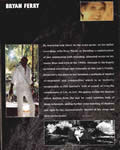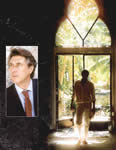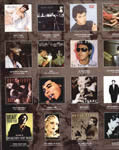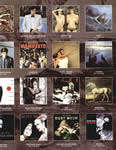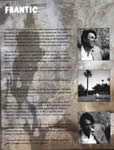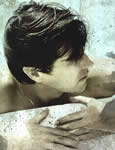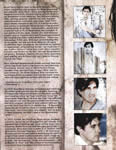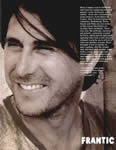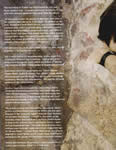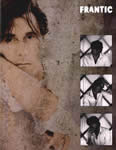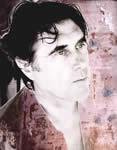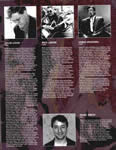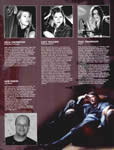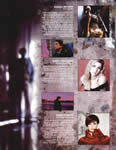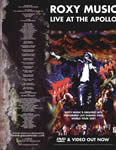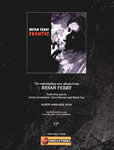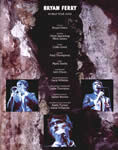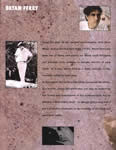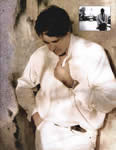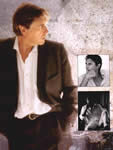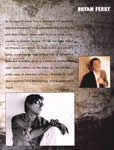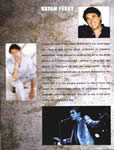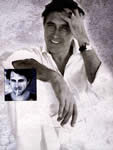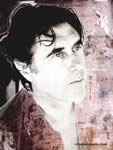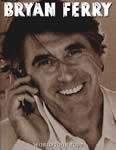 Typical Set List
For specific show setlists for this tour click here
Tour Musicians & Credits
Tour Venues and Itinerary
24th May 2002 Odense Denamrk
25th May 2002 Jelling Festival Denmark
1st June 2002 Princess Street Ross Bandstand Ediburgh Scotland
3rd June 2002 Heineken Green Energy Festival, Cork Ireland
4th June 2002 Belfast Castle Northern Ireland
6th June 2002 Casino Estoril Portugal
8th June 2002 Casino Da Povoa Povoa De Varzim, Portugal
14th June 2002 Caribana Festival Crans-sur-Nyon Switzerland
18th June 2002 Credticard Hall Sao Paulo Brazil***POSTPONED***
19th June 2002 Creditcard Hall Sao Paulo Brazil***POSTPONED***
21st June 2002 ATL Hall Rio De Janeiro Brazil***POSTPONED***
22nd June 2002 ATL Hall Rio De Janeiro Brazil***POSTPONED***
29th June 2002 Crathes Castle Royal Deeside Scotland
13th July 2002 Belvoir Castle Leicester UK
14th July 2002 Kings Dock Arena Liverpool England
16th July 2002 Malaga Palacio De Los Deportes Municipal
17th July 2002 Madrid Spain
21st July 2002 Stimmen Festival Lorrach Germany
23rd July 2002 Codroipo, Udine, Villa Manin, Italy
25th July Swiss National Museum "Landesmuseum" Zurich Switzerland
30th July 2002 Stadio della Pallacorda Rome Italy
31st July 2002 Viareggio, Lucca, Arena Del Carnevale, Italy
2nd September 2002 The Cirkus Stockholm Sweden
4th September 2002 House of Culture Helsinki
6th September 2002 Concert House Oslo Norway
7th September 2002 Falconer Theatre Copenhagen
9th September 2002 Heineken Hall Amsterdam
10th September 2002 Paleis Voor Schone Kunsten Brussels
11th September Koningin Elisabethzaal Antwerp Belgium
13th September 2002 Stadtpark Hamburg
14th September 2002 Museum Park Bonn
15th September 2002 Stadthalle Bielefeld
17th September 2002 Tempodrom Berlin
18th September 2002 Alte Oper Frankfurt
20th September 2002 Rosengarten Mannheim
22nd September 2002 Olympia Paris
23rd September 2002 Olympia Paris
25th September 2002 Congresshaus Salzburg Austria
26th September 2002 Museumsquartier Arthall Vienna Austria
28th September 2002 Musical Theatre Basel Switzerland
30th September 2002 Auditorium Kursaal San Sebastian Spain
1st October Teatro Tivoli Barcelona Spain
4th October 2002 Regent Theatre Ipswich England
5th October 2002 NIA Acadamy Birmingingham England
7th October 2002 Royal Albert Hall London England
8th October Royal Albert Hall London England
10th October 2002 Colston Hall Bristol England
11th October 2002 Pavillion Theatre Plymouth England
13th October 2002 International Centre Bournemouth England
14th October 2002 Royal Centre Nottingham England
16th October 2002 City Hall Sheffield England
17th October 2002 De Montford Hall Leicester England
19th October Clyde Auditorium Glasgow Scotland
20th October 2002 Festival Theatre Edinburgh Scotland
22nd October 2002 City Hall Newcastle England
23rd October 2002 City Hall Newcastle England
25th October 2002 Barbican York England
26th October 2002 Apollo Manchchester England
9th November Montreal Maisonneuve Theatre Canada
10th November Toronto Hummingbird Centre Canada
12th November Boston Orpheum Theatre
13th November Philladelphia Keswick Theatre USA ***Cancelled***
15th November New York Beacon Theatre USA
16th November Washington 9.30 Club USA
18th November Ann Arbor MI Michigan Theatre USA
19th November Chicago Chicago Theatre USA
22nd November San Francisco Warfield Theatre
23rd November Los Angeles Kodak Theatre USA
25th November Las Vegas The Joint Hard Rock Hotel USA
26th November Anaheim CA House of Blues USA
30th November 2002 International Forum Hall A Tokyo Japan
2nd December 2002 Kosei Nenkin Kaikan, Osaka Japan
11 February 2003 Rio De Janeiro ATL Hall Brazil
12 February 2003 Sao Paulo Credicard Hall Brazil
14 February 2003 Sao Paulo Credicard Hall Brazil
15 February 2003 Sao Paulo Credicard Hall Brazil
18 February 2003 Luna Park Buenos Aires Argentina
19 February 2003 Mexico City National Auditorium Mexico ***Cancelled***
28th February 2003 Guildford Civic Hall England
1st March 2003 Folkestone Lees Cliff Hall England
3rd March 2003 London Shepherd's Bush Empire England
4th March 2003 London Shepherd's Bush Empire England ***Cancelled***
6th March 2003 Derby Assembley Rooms England
7th March 2003 Preston Guildhall England
9th March 2003 Bradford Saint George's Hall England
10th March 2003 Manchester Apollo England
12th March 2003 Portsmouth Guildhall England
13th March 2003 Brighton Dome England
16th March 2003 Oxford Apollo England
17th March 2003 Cambridge Corn Exchange England
18th March 2003 Northampton Derngate England
20th March 2003 Reading Hexagon England
21st March 2003 Cardiff St. David's Hall England
23rd March 2003 Birmingham NIA England
24th March 2003 Liverpool Philharmonic England
25th March 2003 Middlesborough Town Hall England ***Cancelled***
27th March 2003 Glasgow Acadamy Scotland ***Cancelled***
28th March 2002 Dundee Caird Hall Scotland ***Cancelled***
29th March 2003 Aberdeen Music Hall Scotland ***Cancelled***
10th June 2003 Train, Aarhus, Denmark.
12th June 2003 Ulriksdal Festival, Stockholm, Sweden.
13th June 2003 Open Air Festivallen, Langesund, Norway.
Wednesday 15th October 2003 Prince's Trust event at Royal Albert Hall
Other artists included in the line up were :
Robbie Williams, Victoria Beckham, Elton John, David Bowie was beamed in by satellite. Bryan Ferry performed Let's Stick Together.
10th November 2003 AVO Session Messe, Basel Switzerland
***Re-scheduled from March 2003***
12th November 2003 Middlesbrough Town Hall England
14th November 2003 Caird Hall Dundee Scotland
16th November 2003 Music Hall Aberdeen Scotland
31st January 2004 Auckland Civic Theatre New Zealand
1st February 2004 Wellington Winery, Wellington New Zealand
4th February 2004 State Theatre Sydney Australia
5th February 2004 State Theatre Sydney Australia
7th February 2004 Melbourne International Music and Blues Festival Australia
8th February 2004 Newcastle Entertainment Centre Australia
10th February 2004 Twin Towns Gold Coast Australia
11th February 2004 Twin Towns Gold Coast Australia
13th February 2004 Adelaide Entertainment Centre Australia
14th February 2004 Kings Park Perth Australia
18th February 2004 Hobart's Derwent Entertainment Centre Tasmania
20th February 2004 Suntec Convention Centre Singapore
23rd February 2004 Bangkok
25th February 2004 Hong Kong
Wednesday 2nd June 2004 Country Club, Dubai.
Thursday 3rd June 2004 Ritz Carton, Bahrain
Saturday 5th June 2004 Byblos Festival, Beirut
Monday 7th June 2004 Lycabettus Amphitheatre, Athens
Wednesday 9th June 2004 Mylos Club Salonica
Saturday 12th June 2004 Norfolk Thetford Forest Park England
Sunday 13th June 2004 Bedgebury Kent England CANCELLED
Tuesday 15th June 2004 15 Hampton Court, London England CANCELLED
Saturday 19th June 2004 Delamare Forest Park Cheshire England CANCELLED
Sunday 20th June Dalby 2004 Forest North Yorkshire Moors England CANCELLED
Friday 2nd July 2004 Kedleston Hall, Derby. CANCELLED
Saturday 3rd July 2004 Petworth House West Sussex England CANCELLED
Saturday 10th July 2004 Cutteslowe Park, Oxford England
Sunday 11th July 2004 North Wales Summer Pops Festival, Faenol Estate Bangor Wales CANCELLED
Wednesday 14th July 2004 Montreux Jazz Festival
Saturday 17th July 2004 Kenwood House, North London.
Sunday 18th July 2004 Kilkenny Source Music Festival
Friday 23rd July 2004 Liverpool Pops England
Saturday 24th July 2004 Westonbirt Arboretum Gloucestershire England
Wednesday 28th July 2004 Nice Jazz Festival, France